What do you collect?
You don't need to collect ONLY Old Colemans for sure. All other lanterns, lamps, stoves, and others are fun to collect. I am hoping that I will collect more Phoebus, SVEA, Trangia, Optimus, and whatever I like.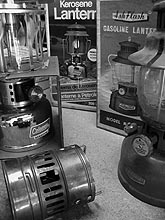 Swedish stoves are always welcome!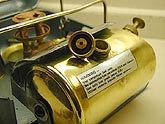 Even this old Stanley Plane can be your collection, too.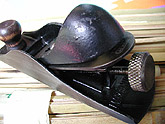 This Victorian "Rose" glass door knob is one of my interests. circa 1930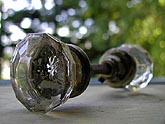 This is a very unique-designed fountain pen. This is not old, but it's collectible.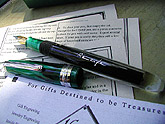 This catalog could be able to add as a OLD Coleman collection. See 200A is in there.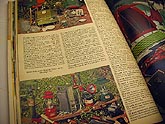 .... not many but I have some other brand's repair parts. Below NOS generator is for AGM lantern.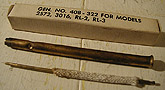 Two AIDA stoves in good condition.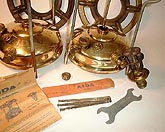 Dear Ron Kusse
As long as you are the fly fisherman, you should know his name. Ron Kusse, former vice president of H.L. Leonard Rod Company and now operates his own workshop. The rods that he makes are so beautiful! It's been a long time since I spoke to him.

My favorite his rod "CatsKill #3" rod also fits for a small stream of West coast. If you want to see his job, Click above link. www.ronkusse.com
Hidden Collections.
"Hidden Collections". What does it mean to you. You might have something that you don't want to show anybody. Being a "PRE-OLD man", I have been attracted by many antiques, collectibles, and vintage goods a lot. I would say OLD Coleman is the best, but I have some (maybe many many) other vintage goods besides that. Here are some other vintage goods that I have.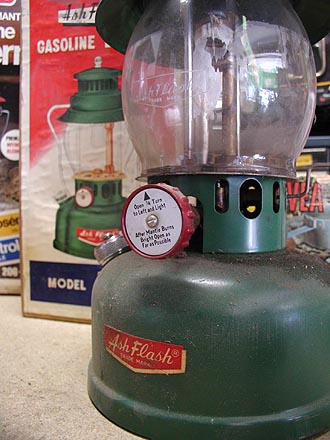 Above lantern is "Ash Flash" Hong Kong made lantern. I believe it was made sometime aroung 1970s. Probably Coleman 200A was used/based
for this lantern's product design. Direction disk and direction plate are very much alike coleman's products. Did the company of Ash Flash use Coleman parts.....? Or just mimic one? I need more study for this lantern.
"REAL" Hidden Collection?
"A 206-720 single KEROSENE lantern?" Did Coleman Company make such a model? Yes, they did it! I believe many of folks know this model, but this model cannot be found so easily. I think that finding this model is much much harder than GOLD BOND series, especially people who live in U.S.A and other countries where Coleman Company never imported this model. This model was made for Philipine market in 1970's. I was very lucky when I found this model at ******. Two of this were sitting at the same place. Both of them are New Old Stock. Wow! All the sudden, I was scared. If I did not come here today and if I missed them.... I don't think I can meet them again. Photo: 206-720 (March 1977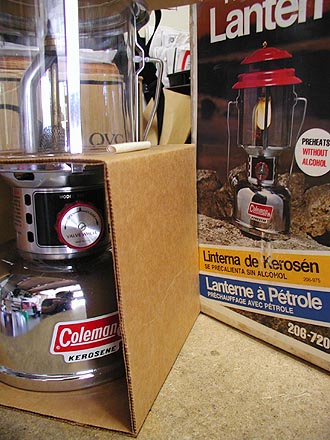 New Old Stock model 206-720/March 1977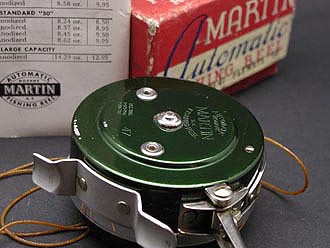 Martin vintage automatic Fly Fishing reel.
"It has a silk line on it"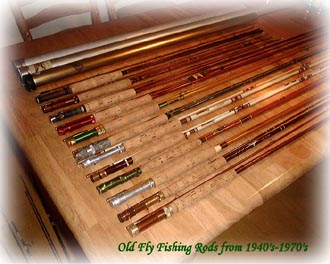 Bamboo and glass fly rods from 1940-1970's
Superb.....
Superb condition. I like that word more than MINT. Most of Superb condition lanterns that I found were "Dull" condition. Somehow, they became superb condition with a certain manner of restration.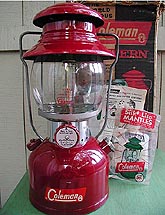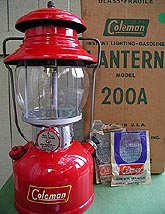 Superb BURGUNDY and YELLOW BORDER 200A

Superb VENT, Funnel, and Amber globe.
Look at behind them. a Superb red case is there, too.
Are they beautiful?
Yes, they are. Even thought they are not Colaman family, many peope are interested in those items. Especailly brass stoves become much beautiful when they are polished up!
Photo: Ash Flash and SVEA 123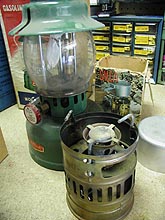 What a dust!
Like you see a lot of dust on Ash Flash on your left, we possibly get similer lanterns for sure. How do you like them? You don't like to wipe them off?
I sometime leave them as found condition to keep them natural. Actually, I am in doubt what to do for this one. This one could be near MINT condition.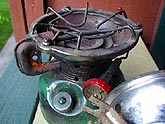 How do you cook this guy?
Are they really work?
Below photo shows 1950's Ice cooler (refge type) and 1960's water jug. Are they really work? Answer is YES. They are really work well. If I were a owner of 1960's VW bug, I would put them in wherever I go. Highly recommended!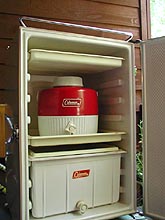 Ted Williams version
No words needed for Ted Williams version. If you don't know about Ted Williams. Please check this page here.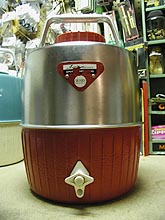 Coleman Torch
There is a no chace to use this torch.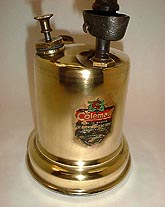 What is the rarest Coleman that you found?
Well, I really don't know. An arc lantern or Gold Bond 200A....? When I first saw a propaine picnic stove about 10 years ago, it was the rarest for me at that time. I had same thing for a Coleman torch (above photo).
I am seriously looking for a red paint that Coleman Company used to sell for re-painting red fount. Do you want to use it .......? Oh, no.....empty one could be acceptable.
How about Canadian Coleman?
Maybe I will take a trip to Canada some day. Repair parts for Canadain model are highly demanded now a days. There is almost no chance to find Canadiam models in the United States. I could able to find Canadian model only a few of them in the past. Somehow what I found Candaian models were "Collectible" models, thought.